The type of floor that you choose often turns out to be a deciding factor on how the property looks. Of course, different people have different criteria – some want their floors to look classy which is why they choose wooden floors while many others want the floor to be durable so that they don't have to invest on it every now and then. When it comes to durability, there are no better floors than epoxy floors. Epoxy is basically sealant that seals concrete floors. The coating is generally applied on the floors of commercial buildings or warehouses or factories because these areas tend to have a much higher traffic than in your house. In addition to withstanding higher traffic, there are many more uses of epoxy floors that you may not be aware of. Here they are given below:
• Provides a lot of strength – the epoxy coating gets converted to solid polymer and once that happens, it makes the floor super-strong. This prevents any kind of damage due to chemical breakdown.
• Safe from all aspects – epoxy floors can withstand extreme temperature, they are resistant to slippage, the coating is fire-resistant and will not be affected when there is too much of heat around, and it is easy to walk on.
• Low maintenance – most of the other floors that you see like wooden or marble or tiles, have to be maintained every week or month. Their longevity depends on the amount of maintenance they get from time to time. Epoxy floors are different. They do not require any maintenance at all. Since there are no pores on the floor after the sealant gets solidified, you will not have to worry about frequent maintenance.
• Durability – these floors last longer than any other floor. Their ability to withstand daily wear and tear make them last longer and it also becomes a money-saver after a few years. If you have wooden floors, you will understand how expensive the upkeep is and the wood does not last for years. You have to invest again on a different floor. But when you are getting an epoxy floor, you can be assured that it will last for a long time without having to think of reinstallation or maintenance.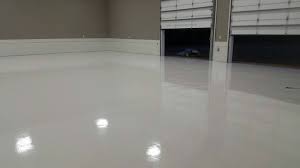 There are many flooring contractors who will readily agree to install an epoxy floor in your property. With so many benefits under its belt, it is only a matter of time before you are convinced to choose this floor over others.